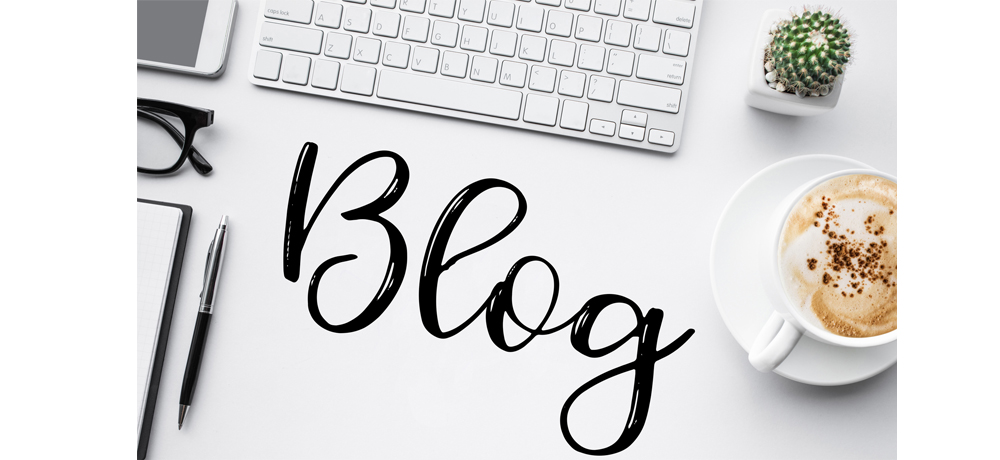 CPG Newsletter
Are you interested in receiving the CPG newsletter with the latest news from CPG, new features, general business updates as well as interesting industry news? Then sign up today.
Medisa reaches 50,000 registered users 
March 2021
We are very pleased to announce that Medisa has reached another milestone and now has over 50,000 registered users.

Medisa provides a range of online ordering options for healthcare professionals (HCPs), patients and carers to order information and resources when they need them. The ordering sites offer an easy, compliant way for pharmaceutical and healthcare companies to provide information at the point of interest.

The two main ordering options are Medisa.com and incorporated Medisa sites. Medisa.com is used by a range of organisations as a cost-effective way to provide information online to HCPs and/or patients within the UK.
Incorporated Medisa sites are bespoke web ordering sites created specifically for individual clients, an easy way to provide an ordering element to an existing website, tailored according to client requirements.

During 2020 we launched our re-designed Medisa sites with a new look, improved features and we are now collecting information about our users such as job roles and specialist interest areas.

If you would like more information on the range of Medisa services, please visit www.medisa-services.com.
DAN improvements to facilitate international shipping 
March 2021
We are continuing to make improvements to our systems to help international deliveries. The latest amendments are in relation to the commodity codes and country of origin which have now become mandatory fields on the Delivery Advice Notification for materials shipped outside the UK.
For international shipments, is also very important the item value which is the cost of the individual item or pack, is correct.

For more information, please contact your Customer Service Team.
Easter bank holiday 
March 2021
We will be closed on Friday 2nd April and Monday 5th April for Easter holidays.
If you or any of your contacts have a requirement that might be impacted by our closure, please contact 01329 245600.
CPG awarded bonded warehouse status  
January 2021
We are pleased to announce the HMRC has awarded CPG with a bonded warehouse status. Our bonded warehouses enable customers to store imported goods, with the advantage of customs duties payment only being applied when the goods are released from bond. Port-centric to both Portsmouth and Southampton, our location reduces both time and costs for our customers when importing and exporting goods.

Our Authorised Economic Operator (AEO) and bonded status demonstrate the physical and technical security measures we have in place at CPG to ensure the international supply chain is secure. 
As an Authorised Economic Operator, consignments travel through cross borders with fewer checks and minimum delay, in a safer and more secure environment. AEO status is internationally recognised and as a company we have demonstrated that customs controls and procedures are conducted efficiently and compliantly.

As the transition period for the United Kingdom exiting from the European Union has now ended, we wanted to reassure you of the standards and accreditations we have in place to ensure our customers can continue to operate on a successful international basis. 
brexit 
January 2021
As we have reached the end of the transition period for Brexit (31st December 2020), we wanted to remind you that if you have materials to distribute outside the UK, please contact the CPG Customer Service team who will assist with details of any new requirements.

To prevent any shipping delays, please ensure that your Customer Service Team have record of your EORI number, chosen Incoterms and that all of your inventory has a commodity code, accurate item value and country of origin.
Please rest assured that we are doing everything we can to support in making this transition as smooth as possible.
Managing your Recalls and Withdrawals in Pharmisa 
January 2021
Managing recalls and withdrawals can often be a challenging task for our clients. Did you know that Pharmisa has a Recalls and Withdrawals (RAW) feature?

The functionality provides a robust, systems driven approach to managing a recall/withdrawal efficiently and compliantly while maintaining visibility down to individual respondent level.
A comprehensive range of reports provide a complete audit trail of respondent declarations, status of each recall/withdrawal as well as declared versus returned quantities for the full count and check service.
If you would like to discuss this new feature in more detail, please contact your Customer Service Team.
CPG update – coronavirus (covid-19) 
November 2020
In light of the ongoing developments of Coronavirus (COVID-19) we would like to update you on the steps we have taken to ensure CPG can provide services to you on a continued basis. Protecting the health of our employees is of utmost importance to us whilst focusing on providing ordering and delivery services along with other related activities for our customers.

1. Social and safe distancing is maintained at all times and thermal imaging cameras have been installed

2. All working areas have been adjusted to comply with the new measures

3. Hygiene routines have been implemented throughout our offices and warehousing facilities

4. All our warehouses continue to operate and we have the capacity to support additional workload
5. For sales teams using Pharmisa, the system can accommodate orders to be placed and delivered directly to an individual. This feature enables sales teams to continue to provide information and support items to those who need it
6. We provide alternative channels to reach healthcare professionals, patients and veterinary staff with information and resources through our Medisa channels. If you are looking for different ways in which to meet customer demand, please contact Laura D'Souza.
If you anticipate any changes to your business needs or if you have any concerns regarding your upcoming activity, please contact your Customer service team.
CPG Christmas Goods In Opening Times 
November 2020
Please see below CPG Goods in opening times during the Christmas holidays:
Wednesday 23rd December – normal operating hours 08.00-16.00
Thursday 24th December – 08.00-14.00
Friday 25th December – closed
Monday 28th December – closed
Tuesday 29th December – normal operating hours 08.00-16.00
Wednesday 30th December – normal operating hours 08.00-16.00
Thursday 31th December – 08.00-14.00
Friday 1st January – closed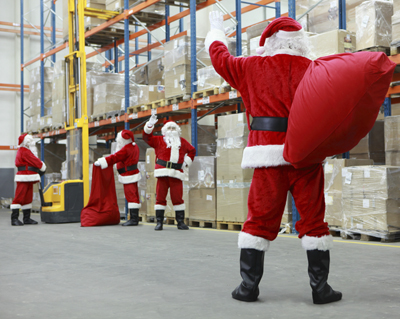 Hampshire chamber of commerce 
November 2020

We are pleased to announce that CPG continues to be a member of the Hampshire Chamber of Commerce for the fifth consecutive year.

Hampshire Chamber of Commerce is a membership organisation that helps promote local business through various media channels and also offers business support and advice.

Medisa services website
October 2020

We are very excited to announce the launch of the Medisa Services website.

Since 2004 the range of direct to customer services provided by Medisa has developed and it continues to be a growing part of CPG's business.

www.medisa-services.com details the range of services offered, from online ordering sites and quick order forms, through to campaign management and literature fulfilment.

We provide easy to use, compliant and cost-effective solutions to deliver information and resources to target audiences, whether they are healthcare professionals, patients, veterinary staff or opticians.

The scope of services is broad, with a focus on meeting customer demand for information whilst supporting brand teams achieve their sales and marketing objectives.

In recent years the traditional marketing model has changed with a shift towards digital channels. The way that healthcare professionals and patients interact with healthcare providers and access content has changed and we have also evolved to meet these changing needs.

Call us today on 01329 245783 to find out more about our services or email laura.dsouza@medisa.com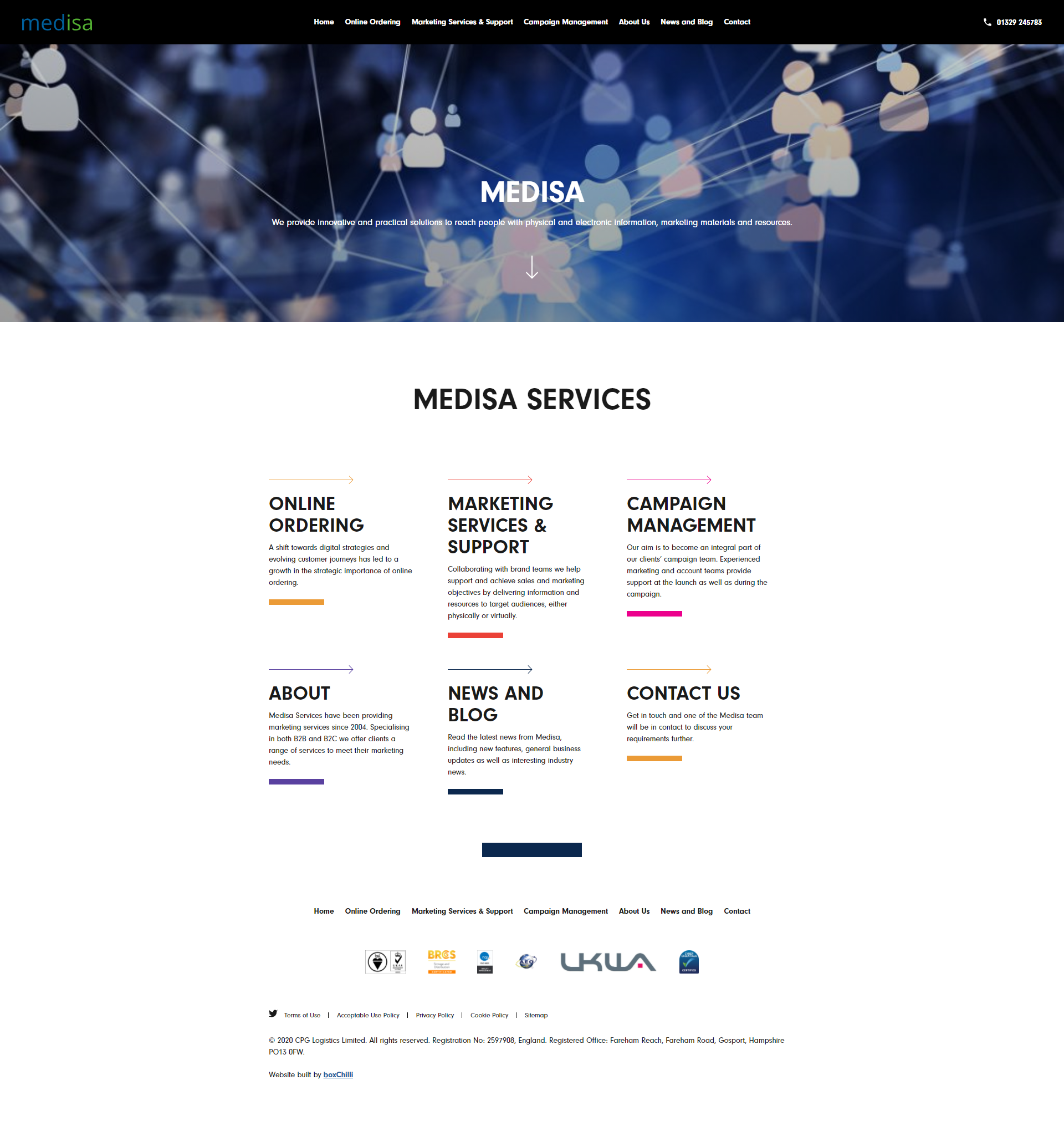 Preparing for Brexit 
October 2020

In preparation for the Brexit deadline, we are continuing to make improvements to our systems to avoid any disruptions in services for our customers.

The latest changes include additional fields on the Delivery advice notification (DAN) form on Pharmisa to capture the commodity code (which Pharmisa will validate) and country of origin.

These fields are not mandatory as they are only required for materials shipped outside the UK.

For more information on how CPG is preparing for Brexit, please contact your Customer Service Team.
World's biggest coffee morning
October 2020
Last week CPG joined in with the World's Biggest Coffee Morning for Macmillan Cancer Support.

This year we organised tuck shops with sweet and savoury treats, had fun with games such as "Guess how many sprinkles are on the Colin the caterpillar cake" and football competitions, whilst ensuring social distancing and COVID-19 compliance.

Thank you to everyone who took part and donated money, helping us raise £301. Well done!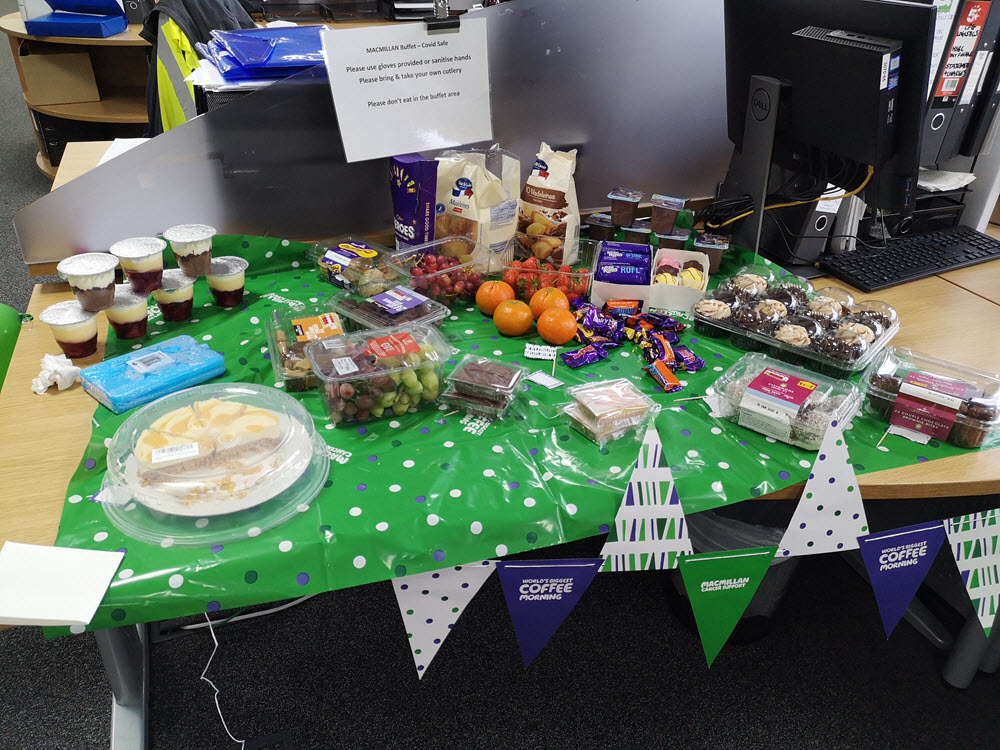 CPG packaging update and waste reduction initiatives
September 2020 
CPG are constantly evaluating the packaging options available to ensure the least impact to the environment whilst continuing to use packaging that will protect the materials we store and ship.

On a bi-annual basis our packaging focus group reviews the existing packaging, what is new to the market, cost implications as well as the level of protection for the goods.

A few updated from our recent review features include:
We only purchase packaging from FSC approved producers (The FSC system allows businesses and consumers to identify, purchase and use wood, paper and other forest products made with materials from well-managed forests and/or recycled sources)
Our pick/pack strategy includes paperless picking enabling our operatives to change the size and type of packaging during the pick and pack process
Where possible, original boxes are used to ship goods reducing the need for new packaging
Carton boxes are made from a minimum 70% recycled material and are 100% recyclable and compostable
The material used within bubble bags is LDPE Polythene and these are made from 50% recycled material. The bubbles are 100% recyclable
Jiffy padded bags are made from paper and the inner is made from 100% recycled paper fibre, with the outer being made from virgin kraft paper. The jiffy bags are 100% recyclable and are compostable
For more information on CPG's packaging review and waste reduction initiatives, please contact your Customer Service Team.
Planning for Christmas 
September 2020
Have you got an immediate co-packing requirement to support your Christmas activity? Why not contact CPG Logistics to see how we can help.

CPG Logistics provide a range of services that support finished and semi-finished products. CPG's facilities are operated by fully trained GMP teams and we have the experience and accreditations to deliver high quality solutions at competitive prices.

Call us today on 01329 245 600 and we will be happy to discuss your requirements.

Raising money for look good feel better
September 2020
The recent months have affected the workshops LGFB normally run, which help boost the physical and emotional well-being of people undergoing cancer treatment.

To help raise funds for this charity so that they can continue providing support to patients in other ways during this time, CPG joined the LGFB August fundraiser and raised an amazing £1,892.

Thank you to everyone who joined in.

medisa.com – a new look and feel
July 2020 
We are very excited to announce that

Medisa.com

has a brand-new look. Apart from the new layout, we have added new features to improve the site experience.

New features include:
Log in directly from the home page
'My account' enabling users to update their account details including their email address, specialist interests and password
PIN feature to add materials to favourites, making the ordering process even quicker
Multiple delivery addresses to help those healthcare professionals who manage the ordering across multiple facilities
'Manage my orders' to help users track the progress of their orders and delivery status
Responsively designed so that the website can be used across desktop, mobile and tablet devices
These new features will help users navigate the site easier and find ordering the resources they need even quicker!

If you have any products or materials that you would like added to Medisa.com, please contact us on 01329 245 600.
Cyber Essentials security audit
June 2020
We are very pleased to announce that we have passed our Cyber Essentials Security audit.

Cyber Essentials helps us to guard against the most common cyber threats and demonstrates our commitment to cyber security.
This is required for contracts that are related to government and defence.
CPG update – Coronavirus (COVID-19)
June 2020
We continue to follow the Goverment's advice and have taken a number of steps to ensure CPG can continue to provide all services to our clients.

Social and safe distancing is maintained at ALL times and thermal imaging cameras have been installed. All working areas have been adjusted to comply with the new measures and NHS posters are displaying around the business.
Protecting the health of our employees is of utmost importance to us but our focus remains on providing ordering and delivery capability along with other related services for our customers.
We continue to monitor the situation and will follow the latest UK Government and WHO advice. For the latest updates, please contact your Customer Service Team.